In the last few months, I've had a blast helping my clients buy and sell a few unique and compact lofts. By compact, I mean studios under 1000 ft. But, these spaces are so seductive that buyers don't even think to ask what the square footage is.

I'm talking about a space like this one.

Of course, this one is just 26 sq ft over the 1000 mark, but it packs a punch with its minimalistic style. Just take a look at these images—I can't imagine anyone having a beef about the amount of space in this unbelievably stunning studio. 
With sky-high ceilings and an open-concept, you can still enjoy your amazing art collection while lazing around on your oversized furniture. And… can you imagine a double-head shower that looks over the North Shore mountains? Seriously, you couldn't ask for a more enticing design (
see more
).

And when I say unique, I mean that the finishings are far from the run-of-the-mill! Like in this space.

Check out the sexy industrial design on this kitchen! Brick walls for miles, hardwood floors mixed with classy lighting and water fixtures. Who wouldn't want to cook in this kitchen? 
Well, not me – don't get me wrong, I love eating gourmet but cooking…nah! 
Certainly someone that loves to cook would be gushing over that full-sized gas stove. Even though this loft is compact in size, it's huge in value (
see more
).

Like to entertain? Loft designers are catching your drift and creating spaces perfect for hosting the ultimate in cocktail parties where guests can mingle from kitchen to living space and back again without leaving the scene.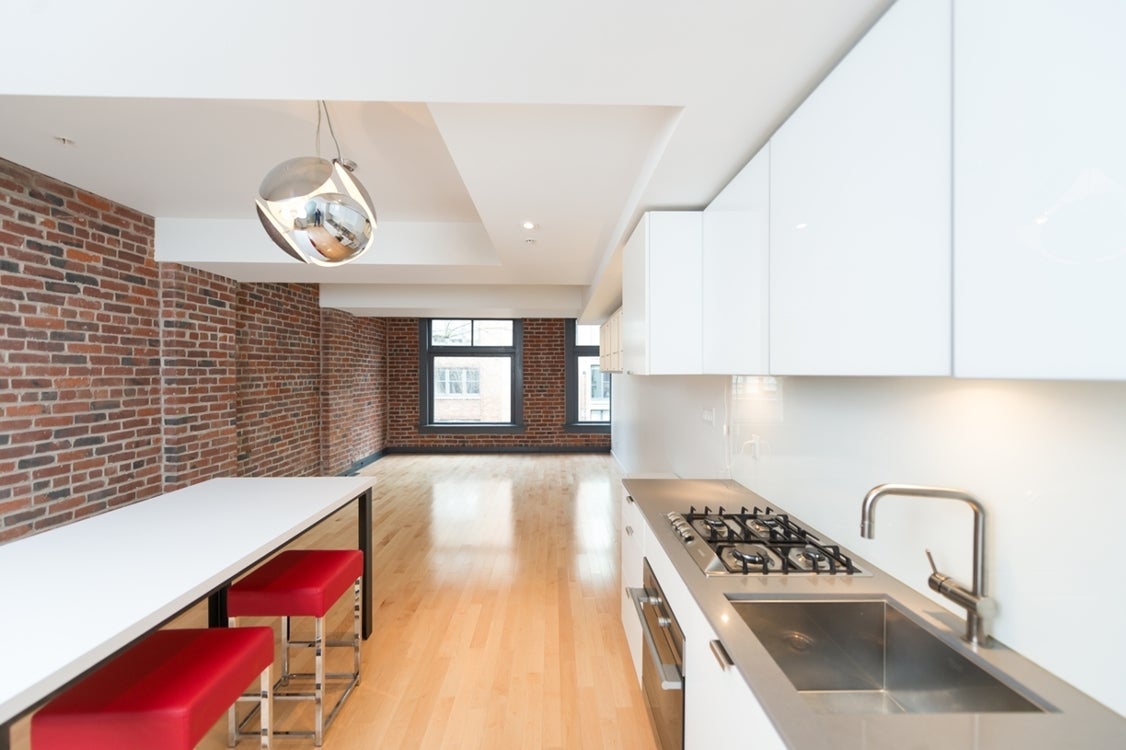 12 Water St | For Sale 
Eat-in galley kitchen? Who said it couldn't be done. This kitchen is compact but the long dining table doubles as a work space so if you like to have a team in the kitchen, there's plenty of space here for someone to chop the coleslaw while you sear the steaks.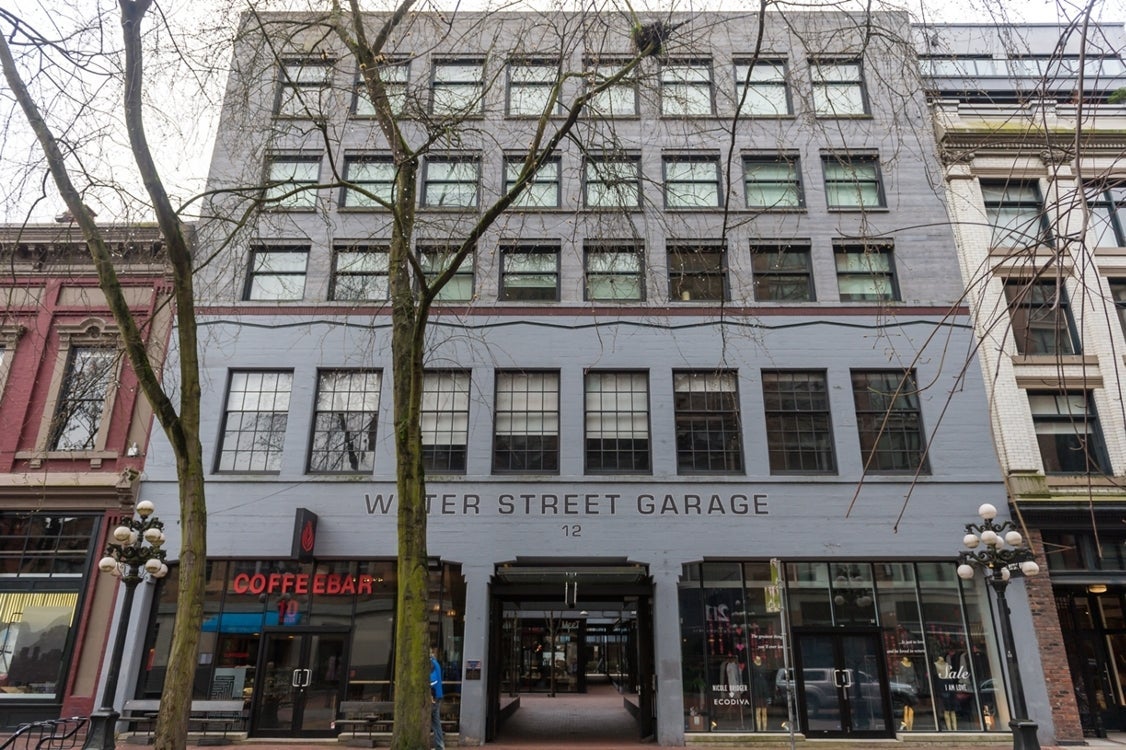 12 Water St | For Sale 
Compact living doesn't have to mean compact life. Some of the best lofts in the city are smack dab in the middle of everything that a 
neighbourhood
 could possibly offer. This historical Gastown Garage is footsteps from the best restaurants and cafés in all of Vancouver, like 
best coffee house
 winner 
Revolver Coffee
 for a quick morning croissant or Sunday brunch at 
No. 17 on Canada's best 100
 restaurants list, 
L'Abattoir
. (
view Water Street listing
)
And, many of these buildings come with a built in community. Like at 2001 Wall St, the previous owners raved about the community that their neighbours had nurtured and said that they were going to miss that neighbourly atmosphere in a big way (
see more
).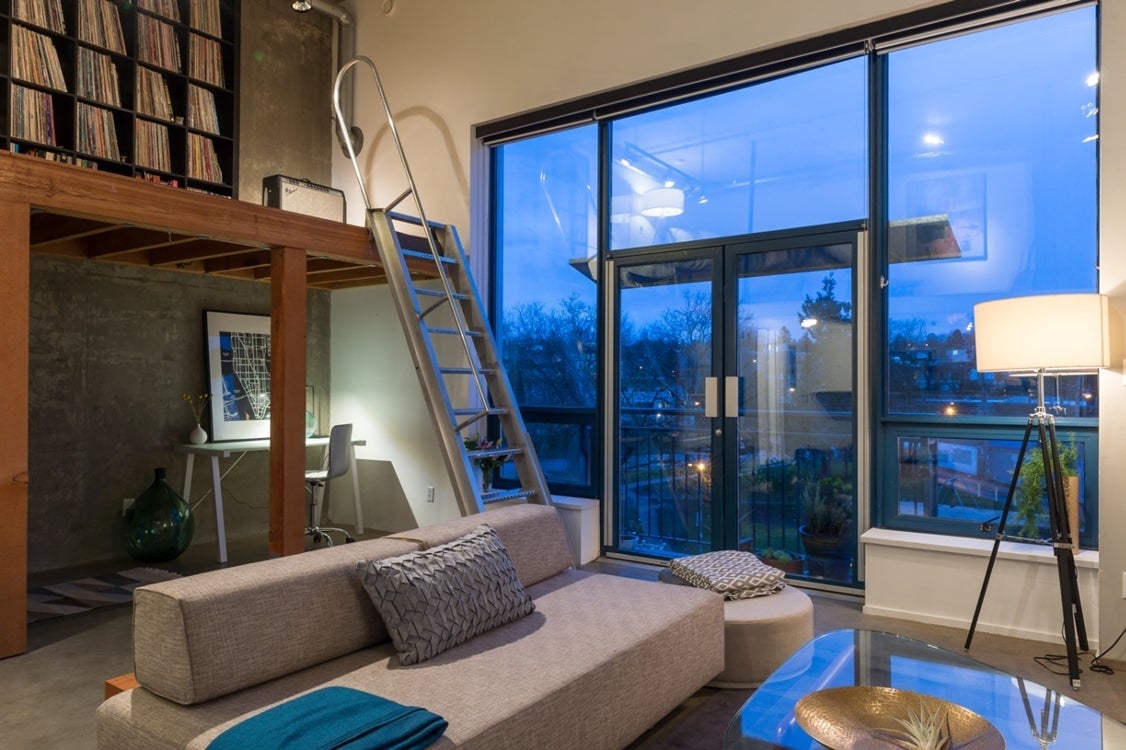 2001 Wall St | Sold
So you can see these sexy loft renos under 1000 sq. ft are really livable and totally lovable for their unique features and contemporary-meets-industrial design.