There are lofts and then there are beautiful lofts. I would be lying if I told you that I don't consider aesthetics important when I'm looking at property. Functionality and space are definitely my top priorities, but if a place isn't quirky or beautiful then I lose interest.
Lofts present a unique opportunity and a blank canvas on which you can express yourself and build a living space that is truly your own. It is not confined by ideas or walls (pun intended!) of thought and evolves with you on your journey through life.
Loft designs are a melting pot of architectural cues and design concepts from lands near and far away. You can find NYC styled conversions in London, French lofts with industrial touches, lofts in Turkey hinting at Italian chic, to name a few.
Whenever I hit a wall (I don't like walls, can you tell?) with ideas, I just backpack to wherever I feel like at the time. It's a great way to expose yourself to new ideas and cultures around the world. Plus, you get to see some pretty sweet ideas for living spaces which is an absolute bonus!
I've managed to get hold of a few snappy design concepts which I think would look and feel great as living spaces for you. These highlight how different colors, arrangements and materials used can completely change your loft's looks and character.
These images are what I thought were striking designs that are gorgeous but also easy to live with every day. They are pretty close to being perfect when it comes to blending in form and functionality.
Luxurious and Opulent Mezzanine concept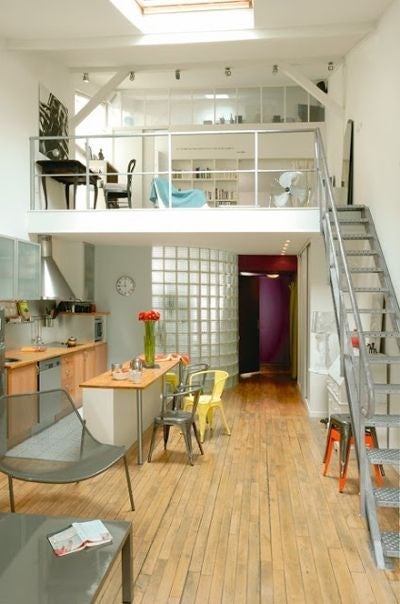 Industrial Designs by Luis Ridao
Minimalist Design Loft concept
Compact and well-appointed, Kimberly peck architects have designed this for the minimalist but with a sophisticated flair. There is a mezzanine library/storage for when you want to read or work. It's well-lit owing to the large frontal window area.
Classy Italian Design
Tribeca Style bachelor pad
Rustic Dutch Farmhouse Loft
Art Deco Style by Isabelle Rouyer
Classic English brick meets Italian Style
Amalgam of Industrial and Urban
Industrial meets Art Deco
Classic Loft Designs by Dick Clark
Raw Industrial Design by Suyabatmaz Demirel Architects
Contrasting Clean and Rugged looks
Classic Loft with French Design Touches
Urban Styled Loft in Philadelphia
Penthouse Styled Lofts
Industrial Styled lofts by Scrafano Architects
Hand finished Custom Styled lofts
Classically styled lofts by Claudia Leccacorvi
Roman Design themed loft
Contemporary style lofts by Novogratz Design
Unconventionally designed lofts
Contemporary Style lofts with whites and greys
Custom Style Loft Offices 
Classic Style With Natural Elements
Home and Office space loft
Custom Style Artist Loft
Minimalist Style Designer Loft
Classically Styled Renovation
Custom Minimalist Style by Jesus Castillo
Artistically Styled lofts by Jessica Vedel
Classic English Styled Penthouse
Yesteryears Themed Classic Loft
Industrial Style by Michael Haverland
Industrial Styled lofts
Classical Styled English loft
Custom Style Lofts
Farmhouse Renovation by RTA Studio
Unique Sky Styled Lofts
Minimalist Classic Styled Lofts by Codor Design
French Style Industrial Design
Modern Lofts finished in wood
Urban and Industrial Styled Loft
Barn Renovation Loft
NYC Industrial Loft
Compact Custom Style Loft
Studio Apartment Style Loft
Medium Office Space Loft
Compact Urban Styled Lofts
Indy Designed Lofts
Urban Industrial Combo Loft
Cabin Styled Lofts
Sky Styled Urban Lofts
Custom Urban Architecture Loft
Contemporary Styled Loft
Winding upI guess what I'm trying to say is that you can do a lot of things with a loft. For people with varying requirements the right loft can work with you, giving you the flexibility and the functionality you need on a day-to-day basis.
Hopefully this huge selection of images give you some point of reference if you would like to build/renovate your own loft. You can create a space that is so totally you. Don't be afraid to mix and match when it comes to styling, it can give your loft the same brand of quirkiness that marks you out from the crowd!